Every Sunday morning, for roughly 4 years now, I slip quietly out of bed and to my computer. I adore checking out the latest
PostSecre
t to see what confessions have been made that week.
PostSecret is a website which publishes photos of postcards mailed to Frank Warren, the creator the website. It started as a social experiment for a program he was enrolled in- he handed out blank post cards and asked the recipients of these blank cards to confide their biggest secret, decorate the card as they wished, and mail it to him. The result of this project was astounding, and thus Frank created the website, to share in the secrets. It continues to this day.
Every week, a new batch is released. There are books made out of these secrets, and people who buy them often find secrets tucked into the pages by other browsers of the books. I hoped I would receive a special secret of my own when I received one of his books for my birthday a few years back. It's kinda like Charlie searching for the golden ticket, exciting!
It used to be my hope I would find a PostSecret directed at me, posted on the website. I never have, and likely never will.
I've thought about what I might write, if I were to confess my deepest secrets. I'm a pretty open person, not too many secrets and certainly no skeleton's in my closet.
Up until Jack was conceived, I remember thinking that if I were ever to submit a secret, it would be something along the lines of "I've always wanted to be the one who got away"... I mean, who wouldn't want to be? I like to think I am, for at least one of my prior boyfriends, but still... It's a funny think to keep a secret about, no?
Some secrets have resonated with me much more than others, especially now after having, and having lost Jack. Here are some I found through the power of Google: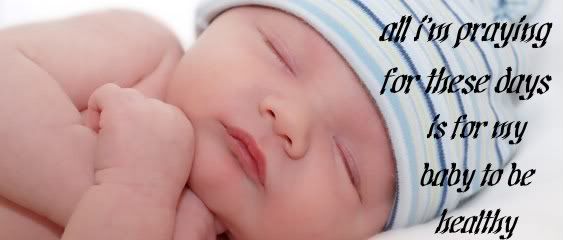 Now, I wonder what my "secret" would be. I feel like I kind of lay my cards on the table when I post here, so I'm not sure what I would say if I knew no one would ever find out.
I do know when Jack was first home with us (when he was still healthy, to our knowledge) and he wasn't sleeping I wished I had gotten pregnant a month later than I did so that I would still be sleeping instead of being up tired and miserable with him. I realize this is likely a common reaction after you give birth, you're exhausted and aren't making sense. But I feel guilty for even thinking that after we lost him, I felt guilty as soon as I thought it. Maybe that would be my secret?
I also remember, after we found out Jack wasn't going to make it, thinking "I knew this would happen", like I had a premonition it wouldn't work out for us. Even though we wanted Jack so badly, and I had imagined what our "new" life would be like with him in it, it's almost like I didn't believe it would happen... So when we found out he wasn't going to make it, it's as though I wasn't that surprised, even though I was obviously devastated. I could write that. I feel guilty for that.
But mostly, I think of the first postsecret written here. How I barely even know him, but yet he will always be the one I miss the most in the world, for all of the remainder of my life.
What would you write? What would your secret be?