On Monday September 5th, Labour Day, I had a dream that I was pregnant.
It was a dream so vivid I would have sworn it was really happening. I dreamt I was laying on a bed while the ultrasound technician swept ultrasound gel over my lower stomach and moved the wand around, pressing harder at certain parts of my belly. I actually remember feeling the coolness of the gel on my skin, and the pressure I felt.
In my dream I was watching Scott's face. He was mesmerized by what was displayed for us on the monitor (which is not unlike the first time he saw Jack). The monitor displayed a 12-week(-ish) fetus and the prominent flicker of a heart beat. Baby was dancing and grooving.
As I've said before, I seem to know that Jack is gone in my dreams. I'm yet to ever dream of him. And I know in my dream I was conscious of the fact this was not Jack- it was his brother or sister. I remember being excited, thrilled even, to see that baby on the screen.
When I woke up from that dream, I was happy for the first time in a long while. I had a few days to go before I could begin testing, and I felt confident this may be the month for me.
On Wednesday September 7th, I began peeing on sticks. Internet cheapies. I saw tiny lines, but so faint I was sure I had imagined them. I held them to the light, squinting, turning them just so, determining it was in fact a line I could see. I showed my husband, he said I was imagining things- that I was seeing things only because I wanted (so badly) for them to be seen.
That evening upon my return home from work, I peed on more cheapies, uploading the images so as to invert them on my computer. Still sure I saw a tiny second line, I decided to splurge (my pee) on a First Response. The prettiest, faintest second line appeared.
The next day? Another.
The day which followed? Yup, one more.
I was pregnant.
Custom t-shirts, available here
When I confirmed this for my husband, he began cheering and told me we had "caught one", which is what we had said all along- we just have to catch one egg. We caught it alright. Last Wednesday, we saw the flicker of a wee little heartbeat at 6w4.
The scan was somewhat turbulent. I stripped off, went into the room and told the ultrasound technician that Scott had skipped out of work to come see the baby, and could she please show it to him at the end of the scan. This is what we did the first time around, and it was no problem- 18 months ago. But no, now it's against the rules, the men can not see the baby until 10+ weeks gestation. I don't get it- the first scan can be all some people ever get, and you're going to take this away? I don't even think these are legitimate rules, but perhaps the rules of the centre itself. BLAH.
Needless to say, I started crying. Loudly. The woman told me to stop crying and to start to pray (Um, thanks lady, because you think this is the first time I've thought of that?) that the baby would be okay. I not so nicely told her that our first born had died, and it would mean the world to my husband if he could partake in the ultrasound. She seemed to soften a little, and told me she would see what she could do, but for now she would be silent and would only show me at the end if there was a heartbeat.
Throughout the next 20 minutes there were no words from me as I sobbed silently, facing away from the screen (it was turned so I couldn't peek if I wanted to). She made audible sighs, and then, after we switched to the transvaginal ultrasound, she asked me whether I had a positive pregnancy test.
In that instant, I began thinking of how on Earth I was going to tell my husband there was no baby, after all. How would I un-tell all those who I had told in the early days? How stupid was I to have told anyone?
And then, she finished her scan and unemotionally announced that not only was there a heartbeat, but it was perfect, and measuring exactly right. I was shocked, what the fuck was all the small talk for, lady? She asked Scott's name, and after only a few seconds he came in the room. He looked up expectantly at me, searching my face for answers.
"We have a heartbeat, but the technician isn't sure you'll be able to see it through my abdomen", I began. And he smiled as tech located my uterus, then the fetus- then the tiniest little flicker.
"You made good ones" he told me, eyes not once leaving the screen until the technician removed the wand.
Nope, we do. We make good ones.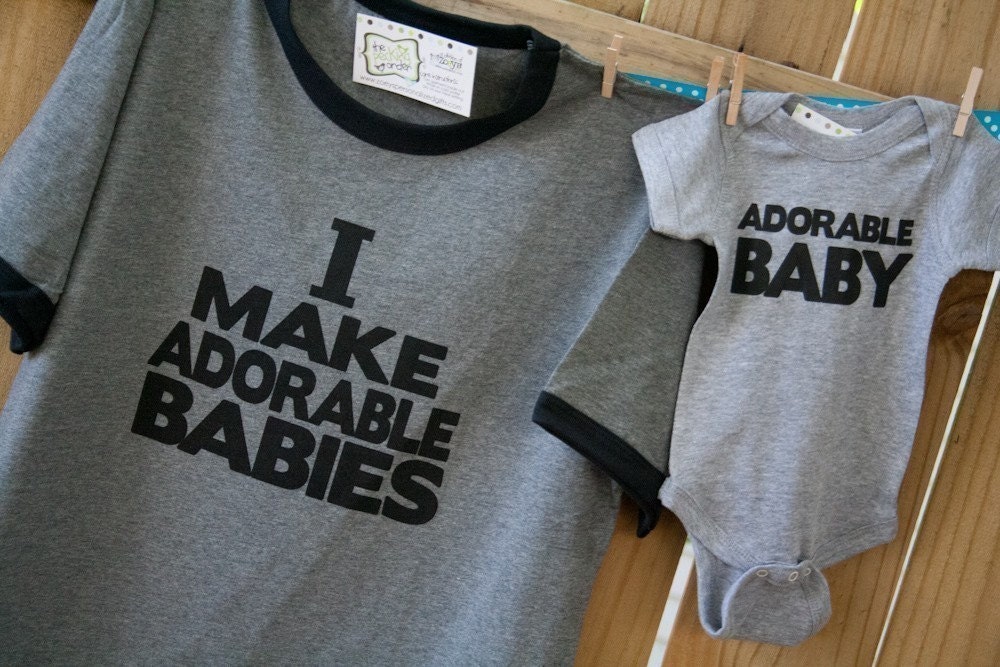 Scott has specifically requested these for our delivery, if we're lucky enough to make it that far.